Testimonials
"Now, upon completing our third Real Estate transaction with Lara the only way I can describe her and the service she provides is 'Above and Beyond'.
Originally from Calgary, Vancouver Real Estate is a completely different beast. Lara took such incredible care to educate us and empathize with us through the extremely arduous and emotional experience of trying to buy, twice now.
For our recent sale from staging, to storage, to photography, to blueprints, to assisting in finding contractors, to referring a designer, to endless late night questions from me, this is all just a fraction of what she provides. It's her complete commitment to do the very very best for her clients in a professional and caring way that sets her well above others.
For these reasons it is with great confidence that I continually recommend both family and friends that they have her represent them because she always goes 'Above and Beyond'".
Jodi B.
During our 52 years together, we have re-located 18 times and have used the services of 11 realtors. Lara stands head and shoulders above any of these. From the time we first met with her on September 17th and she outlined her marketing strategy which included staging, excellent photographs including a virtual tour and a wonderful brochure until, on October 4th when we accepted an offer well above list, she and her team showed a professionalism unlike any realtor we had dealt with in the past. The sale of our condo apartment was accomplished without stress and it was Lara's empathy and concern for our needs which added to the experience. We would not hesitate to recommend her services to anyone and, in fact have done so already.
Freyr and Yonette Thorgrimsson
" My name is Keri Adams. I worked with Lara Davis from July to December 2015 while I looked for a new home for my family. I had some very specific financial, spacial and geographical needs, not to mention I needed to buy something by the end of the year! My order was a tall one, but Lara was convinced we would find the perfect property. What I loved about working with Lara is that she listened to comments I had about homes we looked at, and didn't push me to move in a direction she knew I didn't want. It was an incredibly emotional time. When I began to feel frustration and fear that I wouldn't find the property I wanted, she remained upbeat and positive. Lara was proactive, not just waiting for new properties to come on the market, but actively tried to encourage listings in buildings I was interested in. When I finally found a property and put an offer in, she gave sound advice and I never felt for a moment she was working for anyone but me. In the end, Lara was right! We found the PERFECT home for my family. I would recommend Lara to my family and friends in a heartbeat."
Keri Adams

"We recently sold our house in Burnaby. Properties are selling so fast and we wanted to be sure to choose the right realtor and get the most money possible. Lara helped us to stage our home (free of charge!), was strategic in pricing our home and made sure to allow as many potential buyers to see the property as possible. We had many offers and Lara helped us to navigate through to the best offer. We would absolutely recommend Lara to anyone selling their home."
Dianna Leung

"Where do we start about Lara? There are just so many amazing things we could say. Our experience with Lara was nothing less than incredible. We had dealt with about 4 other agents prior to Lara that simply did not value our business. We lived across the country during our house hunt in North Van, which is no easy task, but Lara did everything to make it a stress free enjoyable experience. Not only was Lara professional but she was also very personable. Her approachability enabled us to communicate our exact goals and not feel any pressure to do anything less than find our dream home. She has incredible knowledge of the market, as evidenced by her ability to correctly predict the purchase price for our dream home. Furthermore she has all the necessary relationships with brokers, builders and other agents to help you close any deal. If you want to find a home while making a friend for life Lara Davis is the only agent we recommend!"
Ashmit and Rashna Patel

"Lara made the daunting task of selling my mother's townhouse a painless process during a difficult personal time for me and my family. From start to finish, she was nothing but a pleasure to work with and I truly felt that Lara was on my side with nothing but my best interests at heart. The time she spent staging the property and the execution of her marketing plan allowed us to have an accepted offer after only 8 days of listing! I have nothing but praise for Lara and would not hesitate to recommend her services to friends, family and strangers alike. If you are looking to sell a property, look no further."
"When I first sat down and began discussing the sale of my property with Lara, I was immediately impressed by her knowledge of the property, the surrounding area, and the market conditions. However, I found myself most comforted by a sense of her honesty and integrity in our conversation. After our initial discussion, I felt confident in her pricing strategy and her vision of what needed to be done prior to listing. Going forward, the effort that Lara put into the presentation of my place was above and beyond in displaying its quality and potential to prospective buyers. She worked tirelessly to bring in clients, follow up after open houses, and handle the affairs of my property when I was unavailable. I took great satisfaction in her diligence and communication during this process. When I began to receive offers, I found her advice to be right on the mark. Ultimately, I was very happy with the job Lara did, and would wholeheartedly recommend her to anybody looking for a great Realtor."
Jared Brown
"Lara….You delivered what you promised and then some - you went as far as to provide dogwalking services to my tenants! I never felt I needed to chase you down - you were always on top of everything, you texted me and called me proactively with updates and ideas. I think the only time I called you was to return your message.
It ended up being a difficult sale that had a longer than expected sale cycle. I appreciated the way you were calm when things went awry and you never wearied. You did everything possible to get the sale complete and also helped me put some plan B's and C's in place.
I would refer you any day! You have a natural sales and marketing perspective and are very good at creating a sense of casual urgency which is critical in the Real Estate industry.
You listened to what I wanted and did whatever was needed to get my condo sold while giving me great advice to get to that end goal. Your service was very personable - I really felt we were a team and that my sale meant as much to you as to me."

Mary Anne Straw
"….When I finally found my home Lara was with me every step of the way in the arduous process of reviewing strata documents and title, negotiating, and finally home inspection. She recommended lawyers and contractors and insurance people. She has a wealth of information off the top of her head which I mined. Through texts and phone calls and meetings and over coffee we worked through all the necessary steps to secure me my new home. Lara worked hard to negotiate a good and fair price for me and when during the inspection we discovered substantial remediation work would need to be done on one of the bathrooms she negotiated with the listing realtor to have the vendor pay for it! Lara made it seem so easy... and she saved me thousands of dollars in renovation work.
Communication with Lara was always easy, always pleasant. Signing of documents we did both in person and digitally, which is a fabulous new technological feature enabling us to be separated by a city wide distance yet still get necessary work done.
At the end of the day, as I sit with my completion date approaching, I can honestly say that I would not have survived the experience without Lara. She delivered way over and above what I expected a realtor could do for me. Lara did it all with intelligence and humour and genuine care for me. I felt like I was house hunting with my sister... someone who could objectively assess a property, give me an honest opinion and give me hugs when I melted down….I hold Lara Davis in very high regard and recommend her whole heartedly."
Ingrid Kenning
"Lara has helped us sell and buy a home; she is smart, caring and passionate about providing the very best service to her clients. When we purchased our home in North Vancouver, she got us the best price with the best closing date - and we couldn't have been happier. More recently, when we sold our home -- she was outstanding in helping us to make good decisions on staging, pricing and timing. It was Lara's advice to list when we did and as a direct result, we sold our house in less than one week, for the price we wanted. I would highly recommend Lara Davis to anyone!"
Barbra Joy

"Having Lara as my realtor was the best decision I made in my journey to becoming a home owner. She was open and honest, and kept me informed every step along the way. She was extremely knowledgeable about the area and was always available to answer the questions I had throughout the process. I wouldn't hesitate in recommending Lara to my family and friends. She made one of the most stressful things you can do feel relaxed due to her calm reassuring demeanor and her wonderful sense of humor."
Sarah S.
"Lara has been our realtor for 4 years and is amazing. She is one of the few realtors we have worked with that actually care enough to put in the extra work required to make the sale or purchase happen as quickly and efficiently as possible. We recently sold our house in North Vancouver and Lara was at the house every day and night helping us get it prepared in time for the fall market and to clean it up. After it sold in 2 days for the asking price! Lara is ultra-professional, 100% focused on her relationship with her clients, extremely clever with her marketing tactics and relentless in her pursuit of her goals. On top of all of that, she has a great sense of humour and is very laid back. She truly is one of a kind!"
Lorne Kinsella

"I have dealt with Lara for three Real Estate transactions now and have been very impressed with her performance in all three. Lara is consistently going the extra mile and I found her to be an excellent judge of what is a good or bad investment."
Daryl L.
"I was pregnant with my second child, working when we were buying our townhouse. Lara not only found us the perfect place, but she made everything seem so smooth and was able to help me have fun and even enjoy what could have been a stressful experience!"
Brianna Willson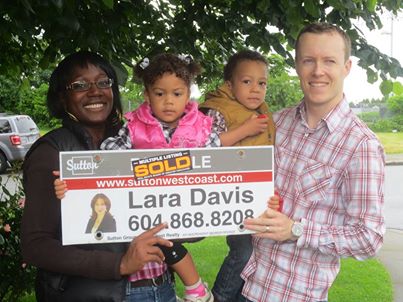 "Lara turned a skeptic into a believer! You truly earned your commission and were engaged the whole way. Thank you Lara for helping us sell in less than 30 days for above asking! We weren't just another sale and your commitment and took a huge weight off our shoulders..." The Hupfau Family